Free demo program
Explore Five Finger Typist before buying. The demo program allows you to judge whether one-handed typing will benefit the user. With the demo you can inspect all features, work through the first four lessons and browse the remainder.

You can obtain the demo version by two means:

to download a copy, click on the type of computer you have: Windows or Macintosh.

we can e-mail, or post, you a copy: e-mail us your contact details.

You can also download the User Manual and read about all the features of the program.

Five Finger Typist runs on both Windows and Macintosh computers:

WINDOWS
Windows 7 to 10, Vista, Windows XP and 2000,
Windows 98 and 95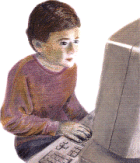 Mac OS
Mac OS 10.3 and later (including Mac OS 10.11, El Capitan) running on both Intel and PowerPC processors.
Version 2.2 for Mac OS X coming soon.